Interact, create, share, collaborate and learn on Library Junction.
Oct 11
spend 80 hours a week trawling junk shops with a laser scanner. I don't feel good about it.
Posted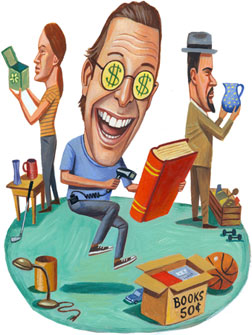 I make a living buying and selling used books. I browse the racks of thrift stores and library book sales using an electronic bar-code scanner. I push the button, a red laser hops about, and an LCD screen lights up with the resale values. It feels like being God in his own tiny recreational casino; my judgments are sure and simple, and I always win because I have foreknowledge of all bad bets. The software I use tells me the going price, on Amazon Marketplace, of the title I just scanned, along with the all-important sales rank, so I know the book's prospects immediately. I turn a profit every time.
I'm pretty sure I first heard about the practice of shopping for books with laser scanners in a story on NPR, which, as I recall it, disparaged their use as classless. And, really, it is precisely this. The book merchant of the high-cultural imagination is a literate compleat and serves the literate. He doesn't need a scanner, because he knows more than the scanner knows. I fill a different niche—I deal in collectible or meaningful books only by accident. I'm not deep, but I am broad. My customer is anyone who needs a book that I happen to find and can make money from.

"I heard about what you're doing," says someone from my old MFA program. "It's a really creative way of educating yourself."
"I don't read the books," I say.
"But you … look through them?"
No—I look through the books only to see if there are marks or stains.
Another friend, pained by the intensity of my nonreflectiveness, tells me, "If you could just specialize in a certain kind of book …" Sure, but if I started to do that, I'd make only a fraction of what I do now using the scanner-judges-all method.

My scanner lies at the end of a cartridge that is fitted into a Dell PDA—a species of technology now obsolete for nearly every purpose but this one. Anyone with a smartphone can scan barcodes on books, but these people aren't the competition, exactly. Smartphone scanner applications, which interpret photographic images of barcodes and then look up the corresponding products on the Web, work too slowly to be tools for the professional. With the PDA and laser scanner, I work at the speed of the retail cashier.
My PDA shows the range of prices that other Amazon sellers are asking for the book in question. Those listings offer me guidance on what price to set when I post the book myself and how much I'm likely to earn when the sale goes through. The scan happens fast and the prices are stored locally, in a database that I download onto the device from a third-party company. If, according to the settings I've plugged in, a book is sufficiently valuable, the program shows me a green "BUY" bar across the top. If it's a dud, I see a red bar: "REJECT."
When I first started this work, I would wake up every morning with fingers stiff from prying apart books in order to get a better look, and a clear shot at the barcode. On average, only one book in 30 will have a resale value that makes it a "BUY." One man's trash is, of course, nearly always another man's trash. When I find a good one, I get a little feeling of violent achievement, and I hide the book away immediately. (Sometimes resellers will carry blankets around to throw over their piles of treasures.)
The old-fashionedness of my PDA echoes the marginality of the work I do. I rely on a technological castoff to search through other people's castoff merchandise. Thrift stores and even library book sales often present books jumbled in boxes on the floor. I root through these. If there's another guy scanning near me—a competitor—I go faster. (And it's almost always a guy, notwithstanding the pair of redheaded, cheerleader-type twins I see at book sales around Chicago.)